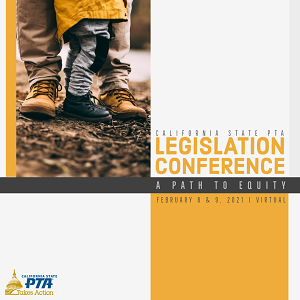 California State PTA is excited to announce that registration is open for the all-virtual Legislation Conference on February 8-9, 2021.

All PTA members are invited – the conference is open to anyone interested in improving the lives of children and families in their community and across the state. We hope you will join us for this new and exciting format!

During the conference, themed "A Path to Equity," you will hear from legislators and experts focusing on how legislation and the state budget link to equity, access and opportunity for all of California's children. There will be opportunities to meet and network with other advocates from across the state in virtual themed breakout rooms. Our pre-conference materials will provide you with the knowledge and power to schedule, plan and execute a meeting with your legislator.

Here is a sneak peek at some of our fabulous confirmed speakers:

Michael Essien - Principal of Martin Luther King, Jr. Academic Alternative Middle School who along with his dedicated staff helped move a troubled urban middle school toward success. For a glimpse of what he and his staff have done, please check out this article from Ed100.

Leaders of the African American, Latino, Asian Pacific Islander, Jewish, Women's and LGBTQ Caucuses will talk to us about how they set their priorities as it relates to children and families, and how they are thinking about opportunity, access and equity!

Perennial favorites Kevin Gordon of Capitol Advisors Group and Jeff Bell of the California Department of Finance, joined by Chris Hoene from the California Budget and Policy Center, will talk to us about the state budget. John Fensterwald from EdSource will moderate this panel to help us understand how the state budget impacts equity.

Please join us for this exciting event. The cost is $50 per person, and Spanish-language interpreters will be present for most sessions.

For the registration link and further information, visit the Leg Con page on the California State PTA website.