Let SkyOne help your PTA unit raise funds and recruit (or retain) members!

SkyOne is a full-service, not-for profit financial institution with a network of over 66,000 ATMs and 4,000 shared branches. For over 70 years they have been helping people and organizations to achieve their financial goals, whether it be paying college tuition, buying a new car, or managing credit and debt.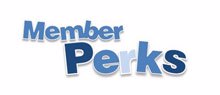 California State PTA is excited to announce that SkyOne has extended its special limited-time Unit Perk offer just for PTA units in California. This offer is only valid until March 31, 2021, so act fast!

Here's how it works: If your PTA opens an organizational account, SkyOne will donate $1000 to your PTA for every 10 members who open individual SkyOne accounts - plus, SkyOne will reimburse their PTA membership dues for the first year!

Click here for more information and eligibility requirements, or click here to view or download a shareable flyer.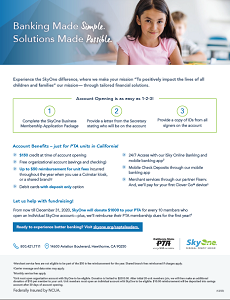 An organizational account with SkyOne comes with many benefits:
$150 credit at time of account opening

Free savings and checking accounts for your PTA

Up to $50 reimbursement for unit fees incurred throughout the year when you use a Coinstar kiosk, or a shared branch

Debit cards with deposit-only option

24/7 access through the iSky online banking and mobile banking app

Mobile check deposits through the mobile banking app

Merchant services through Fiserv, and SkyOne will pay for your first Clover Go® device
Opening a new account is easy: Just complete the membership package, provide a letter from your unit Secretary, and provide IDs for all signers on the account. Please note: You must get approval from your association before opening a new bank account.

Visit skyone.org/ca-pta-leaders for full details.

To watch our recent webinar about this unique Unit Perk, click here.

To see all our Winter 2021 Member Perks and Unit Perks, click here.