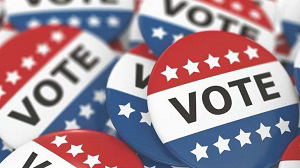 The election season is underway. How can your PTA be involved?

PTA is non-partisan. We do not support or oppose political parties or candidates. We do encourage our members to become informed and vote. PTA does take positions on education issues, including propositions that impact our children and schools. Your PTA may:
Host candidate forums.

Develop and publish candidate questionnaires.

Furnish voter information.
For guidelines on PTA involvement in elections, go to https://www.pta.org/home/advocacy/advocacy-resources/Election-Guides

Encourage your members and high school seniors to register to vote. The last day to register to vote in the November 3rd General Election is October 19th. You can register online at the California Secretary of State website, https://www.sos.ca.gov/elections. If you are already registered, you can go to this site to check your status and make any changes needed. You will also find plenty of information about the upcoming election. Check with your county registrar of voters for information about elections for local offices such as school board and city council.


Get your members and the community excited about voting. Include articles about voting in your newsletter, talk to family and friends, and post messages on social media. National PTA has social media graphics that you can use in your get-out-the-vote campaign here: https://www.pta.org/home/run-your-pta/ptsa-resources

California State PTA supports Propositions 15 and 16. Prop. 15 will change the way commercial and industrial real estate is taxed, while protecting all residential properties. It will raise as much as $11.5 billion in additional revenues for schools and local governments.

Prop. 16 will repeal a previous proposition and allow the use of race, gender, and ethnic diversity as factors (but not decisive factors) in public education (including college admissions), government hiring, and government contracting. For information on both measures, go to https://capta.org/focus-areas/advocacy/state-ballot-measures

Be an informed voter. Here are some non-partisan websites to use and share: